Hotel Alma: hotel on Elba Island » trekking at Fetovaia
All the western area of the island is ideal for trekking fans because of many itineraries going up to and surrounding the Capanne mountain. In our hotel you can find a special guide book realized by the "Consorzio Elba Occidentale" in which "Costa del sole" is part. From there we extracted the itinerary shown here under.
The shepherds path:
Difficulty: demanding
Time required: 7 hours
Path n° 35 leaves from Fetovaia and climbs up hill next to the bus stop. Follow it until you reach a narrow valley where the remains of granite quarries are visible in the midst of the low mediterranean scrub that dominates the entire south-western area of Elba.
This area id full of ancient history, in fact it contains some well preserved remains of prehistoric burials. You move ever further away from Fetovaia while you climb, howewer you get some magnificent, evocative, wild and unusual views. When you arrive at the Piane della Sughera, we advise you to continue in the direction Vallebuia-San Piero towards path n° 34 that is fairly easy to get to After filling yourself with sea views (Fetovaia, Seccheto, Marina di Campo, Pianosa, Montecristo and on clearer days Corsica, the Argentario and the island of Giglio) walk to Pietra Murata and then take the path n° 30 on the left. After a few hundred meters you will come across the first goat shed, one of the unusual constructions that dot this route. The path is quite easy, the view is spendid and Mount Capanne dominates the walk.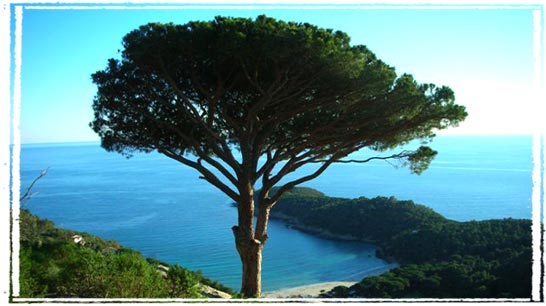 After some ups and downs, little streams and ferns you will soon come to a magic place: Macinelle, a small cut off village of that, still intact, dominates the whole of Elba's southern coast. You could stop and rest on the glassy and clearing in the shelter of the goat shed, with mouflons observing you from far away and buzzards flying over you.
After the rest a brief descent will take you to the final section of the path n° 3 and then the Grottaccia fork. From here you can follow the same sections of the paths n° 31 or 8 towards Le Mura or you can walk down path n° 8 in order to arrive at Fetovaia or Seccheto more quickly. We advide you to continue along path n° 31, a longer but more easier descent, making sure you take path n° 35 for Fetovaia at the fork on your left where you can see some more of Elba's unusual goat sheds.