Hotel Alma: hotel on Elba Island » how to get to Fetovaia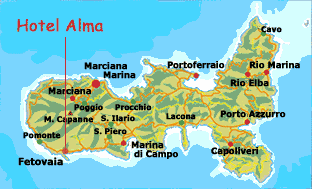 Hotel Alma
is situated just before the street that leads down to the
beach of Fetovaia
.
Once in Portoferraio, just follow the directions to «
Procchio
». In the little village take left in direction of Marina di Campo and then follow always the indications «
Cavoli - Seccheto - Fetovaia
».
Fetovaia is 27 km away from Portoferraio and 9 km from Marina di Campo.
You can also reach Fetovaia coming from the west, leaving Procchio and driving through Marciana Marina, Marciana, Patresi, Chiessi and Pomonte.
The road is longer, goes up an down and with a lot of bends, but the panorama of the coast line is wonderful.
Zoom the map